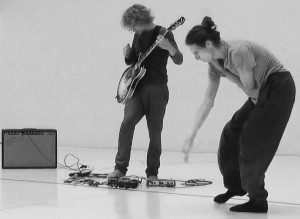 ::::::::: 15th October at 8.30pm
Otherways
Ingo Reulecke – movement
Markus Pesonen – sound
Otherways is a meeting between the movement Ingo Reulecke and the sound of Markus Pesonen. The two disciplines are strongly drawing from their own individual existence but always relating. By indirect relations, detours and game-like quality the duo stretches the rubber band of interconnectedness and explores our attention through communication between the instrument and the body.
::: Ingo Reulecke is dedicated to improvisational work. In many cases this work is in a close exchange with musicians. A fascinating aspect of the work is the possibility to react and create in the moment. The presence and awareness for the power of the moment is an endless research field. Reulecke is mainly performing and working on realtime composition in a couple of different groups like ( grapeshade, BIT, Streugut etc.) and with different artists, musicians, video artists. He is teaching since many years in the inter-university center for dance Berlin, mostly in the master program of choreography.
::: Markus Pesonen is a composer, sound artist and visual artist, creating sound and visual experiences in different contexts, from concerts and exhibitions to sound baths and shared spaces. He composes and creates with several music groups from solo guitar with live electronics to his 11-piece ensemble Markus Pesonen Hendectet and is also working with dance, theatre, performance art, movies and meditation. Markus believes in open wordless communication, making space for everyone to find their own meaning.