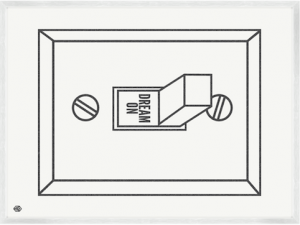 UNGEBÜGELT III/III ::::::::: DREAM ON! WAKE UP!
The 9th and finäl däy ::::::::: Saturday 6th December 1-6pm
Brünch ::: Micro-Performances ::: 9 docümented dreams ::: 3rd Video Performance of the series "In Anja's Garden" ::: Selected Pieces of the C Collection ::: Red Thread Archive ::: chalklines on the bläckboard in the späce
Grüntaler9 will host a Checkered Brünch between sleepless imäges and portäble micro-performances. Site-specific dreams investigating the diverse neighbourhoods of Humboldthain and Les Halles. Longing mütations and conteminäted spheres appear in form of an Antilopenkusss. Relätional Agreement als unbegreifbare Kuckucksnester requires the Anti-idea of 99% invisible responsibility. How to draw the ephemeral pictogram of Skulls & Trust? Wake up!
Curated by Teena Lange, Camilla Graff Junior and Lan Hungh
In the frame of the Ungebügelt (III/III) 28 November – 06 Dezember 2014 series hosted by Grüntaler 9 – a space towards the performative.
This project is supported by Bezirkskulturfonds 2014 of the Bezirksamt Mitte.
::::::::: Participänts
Dolanbay
Jeffrey Byrd
Anja Ibsch
Stefan Aue
Luisa Greenfield
Marialuisa Capurso & Vanila Netto
Frauke Heidenreich
Barbara Degtiar
Joel Verwimp
Joy Harder
Camilla Graff Junior born 1974 in Denmark is a performance artist, curator and artistic researcher. Since 2007 she lives in Berlin. She studied directing, performance and dance at schools in Bergen, Paris, New York and Copenhagen. She in 2002 founded the Giraff Graff Company and within this frame has developed numerous site-specific projects and crossover collaborations in the field of contemporary theater and performance, presented in Europe, Africa, South America and the United States. She is one of the curators of the Month of Performance Art Berlin and together with Luisa Greenfields runs the "Crossing Contexts: Interventions through artistic research" study group by the Nordic Summer University.
LAN Hungh was born in Taipei, Taiwan, studied at the University of Art in Taiwan and the National Conservatory in France, and is currently working as an artist and curator in Berlin. He is a mix-media artist who works with performance, video, music and installation, through which he demonstrates a passion for psychology and body works. In the process of research and development of performance art, Hungh often involves himself in an architectural and environmental context, shows a commitment to an erotism and body-politic in his concept. www.lanhungh.tk
Teena Lange is the Artistic Director of Grüntaler9 – a space towards the performative, which is a space in constant transformation, a space to investigate diverse theories and practices towards the performative. She studied Theatre & Performance Studies & Literature in Leipzig, Paris and Berlin. As a Program Coordinator and Research Associate she worked at the International Research Center "Interweaving Performance Cultures" at the Freie Universität Berlin. Her current work includes independent Performance Art Curating for Grüntaler9 Berlin, Month of Performance Art Berlin, Art Bosphorus Istanbul, Brooklyn International Performance Art Festival New York, >performance space< London and several more spaces and festivals.