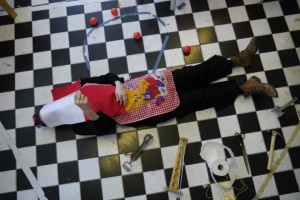 Photo by Teena Lange ::: Esther Neff (Panoply Performance Laboratory, Brroklyn) 
in You Are a Big Boy Now Or Rauschenberg ist Tödlich at Grüntaler9 
for Month of Performance Art Berlin 2013
::::::::: Fäcebook Event
:::::::: Tränsläting Meserole Street will be a close reading, evaluation process, thorough discussion and uncompromising questioning of resistance and resilience ::::::::: in respect to a recently published text by the Brooklyn based Panoply Performance Laboratory titled TRANSITION DOCUMENT AND REPORT OF FIRST HALF OF FINDINGS FROM EXPERIMENTS AT 104 MESEROLE STREET, 2012-2014.
::::::::: this conversätion will be recorded & live streamed
::::::::: the text
::::::::: the readers
Joel Verwimp
Camilla Graff Junior
Frauke Heidenreich
Teena Lange
This event is initiated by the working group Publishing (PUB), members of APAB e.V. and presented by Grüntaler9 and APAB e.V.
It will be included in ä publication which will be launched at Grüntaler9 on April 22nd, 2015.