9 x 9:00 – A Performance Score by Yuka Takahashi and William "Bilwa" Costa
Friday, January 13, 2017
grüntaler9 – a space towards the performative
19h Performance
21h Süpperclüb by donation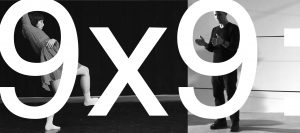 9 x 9:00
Yuka Takahashi and William "Bilwa" Costa are two artists whose performance practices cross disciplines and genres, including: performance art, sound, music, dance, and task-based movements. Based on their individual practices, they have each created a series of nine-minute structures, and/or tasks for movement, sound, and performative actions. From these they will choose nine, which they will co-perform, as a duo and perhaps as a group, in an evening performance at Grüntaler9. This will mark the debut of their duo.
:::::::::: Yuka Takahashi is a dancer, performance artist, improviser, choreographer and certified Pilates instructor born in Japan. After she received professional dance training at Joffrey Ballet School, she extended her interest and training in experimental dance and performance in NYC and Europe. In 2006, she moved to Vienna, Austria. There, she was an artist in residence at the experimental performance platform LABfactory for 2 years. At LABfactory, Yuka Takahashi regularly created inter-disciplinary productions with full professional support under the direction of Thomas J. Jelinek and Kazuko Kurosaki. She also received a residency at D.I.D curated by Liz King in Austria.
Since Vienna, she has been strongly engaged with artists of other disciplines and she has been expanding the use of alternate media in her performances. Her works and collaboration projects were performed around Europe, Japan and the United States in venues such as Siggraph and "100 Years version #4" organized by MoMA PS1 in collaboration with Performa. Since moving to Boston in 2011, she has presented her own works at Mobius, Boston Center for the Arts, Boston University, Movement Research (NYC), the Y Theater at YMCA and OBERON as well as worked with local artists and dance companies. She produced the experimental performance events 'Living Space' at OBERON (2012), 'Test Kitchen' at Cambridge Y (2014) and curated <3Artrage (2015). In 2014, she was invited to become a member of Boston's leading experimental artist collective, Mobius.
Yuka Takahashi's works are strongly based in conceptual / experimental practice and movement invention. She approaches her creations by actively making an attempt to employ various media and taking advantage of the specific performance site to visualize the underlying concept from many perspectives. She uses sensible observation of human psychological states and social configurations to translate the underlying condition into the bodily performance. This approach allows her to present the concept in many layers without ignoring the existence of the body. At the same time she is interested in taking the audience out of its passive role and to actively engage it in the performance.
::::::::: William "Bilwa" Costa is an artist who works in the performing, sound, and visual arts contexts. His work includes: performance, installation, experimental / electro-acoustic music, sound art, field recordings, improvisation, graphic scores, and conceptual structures for sound and movement performance.
Collaboration with other artists is essential to his work. He works internationally, generating research, labs, workshops, and performance projects, actively cultivating opportunities for artists to work together on new interdisciplinary experiments. Bilwa has performed, led workshops, and has lectured in N. America, UK, Europe, and Australia.