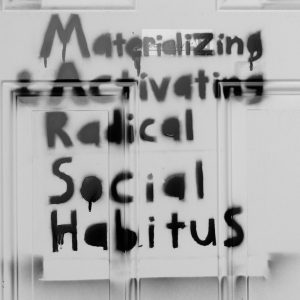 Foto: Nina Isabelle
APA-B # Sharing Practices invites to MARSH, a presentation of sorts from Esther Neff
Tuesday 18 September 2018 from 7-10pm at grüntaler9 – all are welcome
Esther Neff has flown over the ocean to be with us, and to share her work and knowledge from years as a turbo force – organizer, activist, performer and curator at Panoply Performance Laboratory in Brooklyn – an important hub for performance art and social action which has a long relationship with APA-B and Grüntaler9. The space has now been sold and is entering it's final months of existence as PPL. On Tuesday Esther will share her reflections (a presentation of sorts) about this transition, and will talk about her new space, MARSH, which is being built, envisioned and gardened by many hands in St. Louis, Missouri. Come!
About PANOPLY:
PPL performs operations (opera, performance art, digital, interactive and sonic artworks, video, sculpture, social projects, life-art projects) initiated/situated/structured/written/composed/fabricated/designed and performed by Esther Neff, often in collaboration with a flexible ensemble, other artists and organizers, members of local and global communities, and publics of individuals. PPL has often performed across experimental philosophy, music, dance, theater, activist, and visual arts contexts.Read more: http://www.panoplylab.org/
About MARSH:
MARSH (Materializing and Activating Radical Social Habitus) is a not-for-profit organized as a cooperative laboratory for practical investigation of rooted and relational forms of social, economic, ecological, and cultural composition. As a performative commons, the Laboratory combines urban farming and food-sharing, artistic and cultural practices, and collective ideation and experimentation in order to cultivate diversiform tactics and strategies for resilience and bio-cultural (in/re)formation. Read more: https://marshlife-art.org/
About ESTHER Neff:
"I am not a specialized, efficient, or productive function of social reproduction or a representation/representative of capital(ist) value(s). I am a relatively medium-sized animal which has not been properly domesticated. Sure, I know how to use Microsoft Excel and make a blueberry pie. Materializing meaningfulness, however, is a social operation, requiring some marking motions as intentional cognizing, semblative enaction of ideals, and coping tactics within and as affective (dis)orders."
Esther Neff is the founder of Panoply Performance Laboratory (PPL), a thinktank and collaborative entity generating performances-as-art, situations, operas of operations, performance of and as theory, social research projects, and discursive social settings such as conferences, symposia, meetings, festivals, exhibitions, and shows. PPL operates as work by Neff and collaborators and as a public lab site in Brooklyn, NY.
Neff is the organizer of PERFORMANCY FORUM and a is member of Feminist Art Group (FAG), Social Health Performance Club, No Wave Performance Task Force. Frequent collaborators include Brian McCorkle, Kaia Gilje, Leili Huzaibah, Maria Hupfield and IV Castellanos, and many others. Neff is also the "initiator" of the Brooklyn International Performance Art Foundation (BIPAF). Organizational, collective, institutional, and relational configuration becomes hybrid dramatics (theater/theory) when conflated, correlated, and co-constructive with performance-as-art. Read more: https://estherneff.wordpress.com/