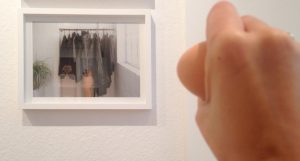 ::::::::: Spatial Awareness Part Two
Performance Collaboration & Süpperclüb
With Adriana Disman, Jane Frances Dunlop, Mira Loew
::::::::: Monday September 12 from 6 – 9pm + dinner by donation
Coinciding with the Spatial Awareness group exhibition (22.08 – 24.09.2016) at Jarvis Dooney Gallery, showcasing the performance based photographic work of Clare Rae, Mira Loew, Lin Wei & Nina Ross, a two part event will be held as collaboration between Jarvis Dooney, the performance art space Grüntaler9 and artists Adriana Disman & Jane Frances Dunlop.
Spatial Awareness Part One – Artist Talk & Brunch with Clare Rae and Nina Ross (via live stream from Melbourne) will take place at Jarvis Dooney Gallery on Sunday September 11, from 11am – 2pm. Facebook Event for Part One
::::::::: Image – sentence – action. A one week daily email exchange between the three artists who have not worked together before. Three practices, an ongoing arranging and re-arranging orientations towards one another.
From this, they discover how their (mutual) practices will manifest in this evening event. Some things & thoughts they will share performatively at Grüntaler9. Threading ideas, overlapping the Spatial Awareness exhibition at Jarvis Dooney Gallery and their interiors & practices, pulling through thoughts.
something about
nervousness
out-of-alignment
dissonance
the white-appearing
woman's body in space
femininity brutality intensity
what we do
what is done
::::::::: Adriana Disman is a performance art maker, thinker, and curator based in Toronto and Montreal. Her current solo practice engages with the almost-unseen, the minor, and performance's ability to amplify the micro. Adrianadisman.com
::::::::: Jane Frances Dunlop is an artist and writer whose work currently addresses emotion and performances of relation on the internet. She lives and works in London, UK. janefrancesdunlop.com
::::::::: Mira Loew is an artist working with photography and performance. Her artistic practice explores the physicality of taking and making space while being particularly concerned with the experience of inhabiting and encountering the world through the female body. She currently lives between London and Vienna. Miraloew.com