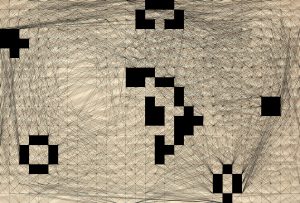 Terminalia – a performative survey of boundary techniques by Patrick Monte
June 29 + June 30 + July 1
daily from 12-22h
Terminalia takes its name from the ancient Roman festival held annually in honor of the god of boundary stones, Terminus, during which stones marking the meeting of lands would be consecrated with first harvests, wine, and honey.
Boundary stones and monuments have been observed across history and culture, and in the 19th century became a primary means of establishing triangulation networks used in modern cartography and land surveying.
Patrick Monte will transform grüntaler9 into an alternative cartographic space through new forms of consecration and triangulation with the aim of destabilizing conceptions of boundaries, be they mathematical, social, or personal.
The gridded tile floor will be used in tandem with a computer algorithm as a conceptual device for the creation of boundary formations, which become charged with different scenarios and meanings through performance.
Terminalia is the first manifestation of a new body of work and research related to the artist's interest in historic land surveying techniques.
::::::::: Patrick Monte (b. 1989 Queens, NY) is an intermedia artist, designer, and composer based in Oakland, CA. His work has been exhibited in group shows at numerous galleries and venues across New York City as well as in Berlin, Copenhagen, Lima, San Francisco, and Kingston, NY. He is a co-founder of XUPSTAR, a performance art and experimental music platform dually based in Oakland and Karlsruhe, Germany. Patrick's work addresses intersections between technology and subjectivity and their socio-political dimensions through projects that weave together conceptually interrelated sets of actions, objects, and documents.
His projects often allude to implicit or explicit narratives which become irrationalized through object relationships or the progression of time-based actions and processes. Although varying in media, tactics, and subject matter, his work is consistently driven by philosophical issues surrounding the history of the self, its technological production and reproduction, and its status and consequences in contemporary culture.