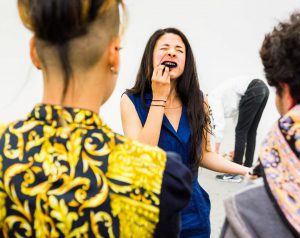 :::::::: s./t. the coal series by Lala Nomada
Saturday July 16th to Sunday July 17th
2pm – 2pm
24 hours continuously
The coal series started during an artist residency doing research in the vicinity of Frameries, Belgium. During the 19th and 20th centuries the local population depended on the extraction of mineral coal for their subsistence, while nowadays it is poorly settled since the dismantling of the mines.
The black color of coal, carbon, charcoal is similar to the color of my hair, extracted from the soil through a complex process, yet inhuman for the coal miners. The coal series refers to industriousness and humankind, their relation, coexistence and dependence.
In these works I reflect on the chemical character of the coal (activated carbon) as a neutralizing material filtering the negative or unnecessary elements, and on letting through what is still useful or considered useful. The darkness and amorphousness of the working material could indicate processing negative emotions: from swallowed lies to unreached illusions.
I have been working with this material in its mineral and natural forms since 2014 on video, photography and primarily performance, using coal, charcoal and activated carbon and examining it from various perspectives and approaches.
::::::::: Lala Nomada
Born 1984 in Guadalajara, Mexico. Lives and works in Cologne and Berlin, Germany. My work process is based on the creation of ephemeral sculptures during performances, which do not only focus on the construction of the sculpture itself, but on the qualities of the "analyzed" situation or material. My aim is to transmit to the audience not just an image but also the interest on the condition and the material qualities, its sounds, weights, flavors and textures.