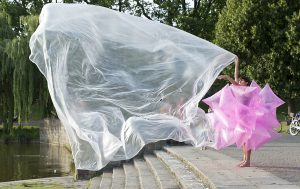 Marita Bullmann  photo by Jordan Hutchings
Sozusagen – a Performance & Installation by Marita Bullmann
Friday September 30, 2016
Performance at 7pm
Süpperclüb from 8pm
Performance & Installation by Marita Bullmann
Sound Art by Sebastian Six
Sushi by Frank Homeyer
The Installation Sozusagen by Marita Bullmann is a spatial and performative research, in which the gesture and the game of seduction, desire and poetry are the codes of inspiration and production. It attempts to explore the intuitive relationships, dynamics and effects of the phenomena of everyday life.


Marita is looking for a direct encounter between her, the given situation and the chosen material. The result is a dialogue between subject and object, which alternates between the possible forms of real and artificial, literally and symbolically, original and imitation and will finally manifest the beauty of now and its simplicity.
::::::::: Marita Bullmann is a performance, installation and photography artist. She lives and works in Essen, Germany. Marita studied photography at the Folkwang University of the Arts in Essen and at the Bezalel Academy of Art and Design in Jerusalem, where she followed classes in Performance Art with Adina Bar-On. She worked across Europe, Israel, Russia, Singapore and China. She is a co-founder (2011) and member of PAErsche and since 2013 she organizes the performance art platform INTERVAL with artists from all over Europe & China.
::::::::: Sebastian Six
Acoustic experiments in connection with items of everyday life, sculptural assemblages and the physical element of sound are the main aspects of Sebastian Six's musical and visual compositions. The works deal with moments where noise becomes music and the difference between hearing and active listening is explored.