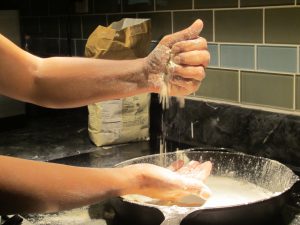 Thirsting for Salt
By Lily Kelting, Janet Hayatshahi, Kirsten Brandt
Wednesday July 20th and Thursday July 21st
Thirsting for Salt combines a durational performance with an intimate performance dinner for six invited guests. The backbone of the evening is a durational performance by Iranian-American artist Janet Hayatshahi, related to the halva making by Persian women for many hours after a family member dies.
Dinner performance for six: each guest, seated around a dinner table, watches a video with headphones on a handheld device, one-to-one. The videos are filmed in home kitchens worldwide, showing people cooking a dish they associate with a deceased family member. These very six dishes from the videos are served live during the performance. Thirsting for Salt aims to face the complex relationships between food, grief, distance, and family.
We invite all to witness the durational halva making performance on July 20th and July 21st from 9pm – midnight.
dinner performance one from 5-7:00pm
dinner performance two from 7-9:00pm
(dinners by registration only – see below)
5pm – midnight
durational halva making performance by Janet Hayatshahi

9pm – midnight
all are welcome for home kitchen video projections, drinks & halva
To participate in the dinner performances, please email to thirstforsalt@gmail.com latest by July 13th. Please give your availability for the following seatings and we will hopefully confirm your place as soon as possible: July 20th, 5-7pm, 7-9pm; July 21st, 5-7pm, 7-9pm. Each dinner is limited to 6 participants and by donation.
::::::::: Dr. Lily Kelting is a dramaturg and scholar living and working in Berlin, Germany. Her credits as dramaturg include Groundswell (Old Globe), Drums in the Night (UCSD-La Jolla Playhouse), A Man, His Wife, and His Hat (Moxie Theater). She is a postdoctoral fellow at the Freie Universität, Berlin, working on an academic project about food and performance in Germany and the Nordic region. She also works as a theatre critic and stage editor for the English-language magazine Exberliner.
::::::::: Janet Hayatshahi is an actor and director currently based in Richmond, Virginia, where she is an Assistant Professor of Theatre Arts at Randolph-Macon College. An award-winning director, Janet was Associate Artistic Director and ensemble member of the notorious Sledgehammer Theatre of San Diego and an ensemble member of the Eclipse Theatre in Chicago.
::::::::: Kirsten Brandt is an award winning playwright, director and producer. She served for six seasons as Artistic Director of Sledgehammer Theatre where she directed over a dozen plays and wrote Berzerkergang, The Frankenstein Project and Nu. She was the Associate Artistic Director of San Jose Repertory Theatre, where she directed Dr. Faustus, Next Fall and Groundswell, among others.
::::::::: Production assistant: Lola Jalbert