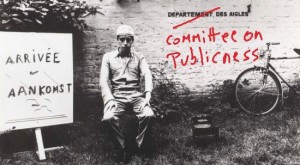 Month of Performance Art – Berlin
Mondäy Mäy 4th ::::::::: 19h ::::::::: MPA-B2015 HUB (Meinblau Projektraum)
76 pages (+booklette)
No cover
No collaboration
No ISBN
One Bar (open at 6pm)
With its first publication, the Association for Performance Art in Berlin is very proud to present a milestone in its relatively young life. The book is a very ambitious event, an enactment to monitor the association's progress and the potentials of present-day performance art.
Nussknacker müssen sich keine goldene Nase verdienen [On Obtrusive Communal Speculations] has been edited by APAB's Committee on Publicness in intimate group sessions with various members of the association at Grüntaler9, warm kitchens and online platforms throughout the last 11 months. Considered as a time-shifting group performance and an offshoot from the previous MPA-B edition at DingDongDom last year, the publication has been performed and materialised around multiple micro-events with several guests focussing on the negation of communal autonomy, radically ignoring Tchaikovsky's Nutcracker Suite.
The txtbook performs and extents the encounter that happened between the featured artists and the audiences during MPA-B2014, between the authors of the book, the future readers, the places of production and its witnesses.
Designed by We make it, the Committee on Publicness will round up the production in the coming week with the presentation of a printed matter Risograph performance, on Monday, May 4th during a presentation including live poetry writing, full-length Zarathustra, black Gaffer tape and the presence of the KBB Künstlerischen Bedarfsbüro! /// Office for Artistic Needs! Künstlerisches Bedarfsbüro at the first APAB e.V. event at the MPA-B2015 HUB (Meinblau Projektraum).