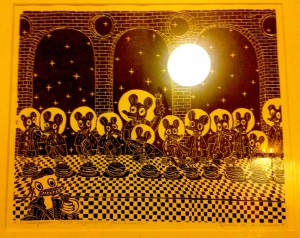 MAY IS MONTH OF PERFORMANCE ART BERLIN 2015
Mäy 1 & 15 & 29 from 21h onwards :::::::::MPÄ Anthölogy ::::::::: Grüntaler9 Fridäy Süpperclüb
Every second Fridäy from 21h Grüntaler9 invites to the Süpperclüb ::::::::: all are welcome!
Jüst come in, häng out, reläx after performing & witnessing all week, enjöy some homecooked food & häve a drink & meet people ::::::::: it's as simple as thät. Get together.
Every second Fridäy in May Grüntaler9 artists, friends, associates or guests will cook with love :::::::::
Food & drinks by donätion only.
ps: You would love to cook or help cooking? Pls contact Grüntaler9 with your preferred date: info@gruentaler9.com