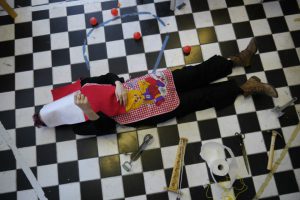 Artificial Affaction Schema (AAS) ::::::::: by Esther Neff
Fridäy July 22nd ::::::::: 2pm – through Süpperclüb – open end
There is nothing which cannot be appropriated by some system or another or assigned within its qualification schemas. Thus, we acknowledge the artificiality of intended acts, endorsing (de)liberate construction of an autonomous communication system which at least qualifies itself as and within itself.
We practice this inclusion/exclusion + enablence/disablence where semblative (inter)facings bleed into fleeting sensations and perceptions, attending and in-tending to "factualize" affects as properties of social schematics.
When done (de)liberately, semblatively, and affectionately, perhaps somatic and experiential conditions of cognizing social bodilies can become identifiable without becoming objectified, operative without becoming functionalized, affectionate without becoming reproductive?
2pm-3pm: examples/exceptions: performance of 1 hour during which witnesses/participants (de)liberate a semiotic affaction schema based on actions and modes of materializations situated
3:00-5pm: (as)(en)(dis)(re)semblance of score: making a new score using the semiotic affaction schema devised
6-9:45pm: affectionate constructivity: including haircutting, face make-overs, supper-prep, eating/drinking
10pm: interpretive collective performance interpreting the score made using semiotic affaction schema
::::::::: Esther Neff is the founder and co-director of Panoply Performance Laboratory (PPL). PPL situates operas-of-operations, performative social projects, and speculative ideation processes. Neff's projects have taken place at 14 Wall Street across from the NY Stock Exchange, across Spectacle Island in Boston harbor, over the course of a month during "relational marches" across the USA, and in art contexts all over the world.
Neff and her longtime collaborator Brian McCorkle are currently working with Kaia Gilje on a new research project called Embarrassed of the Whole, of which this process at grüntaler9 is a part. Outside of PPL, Neff works as a writer and independent theorist, solo performance artist, fabricator, and education consultant.